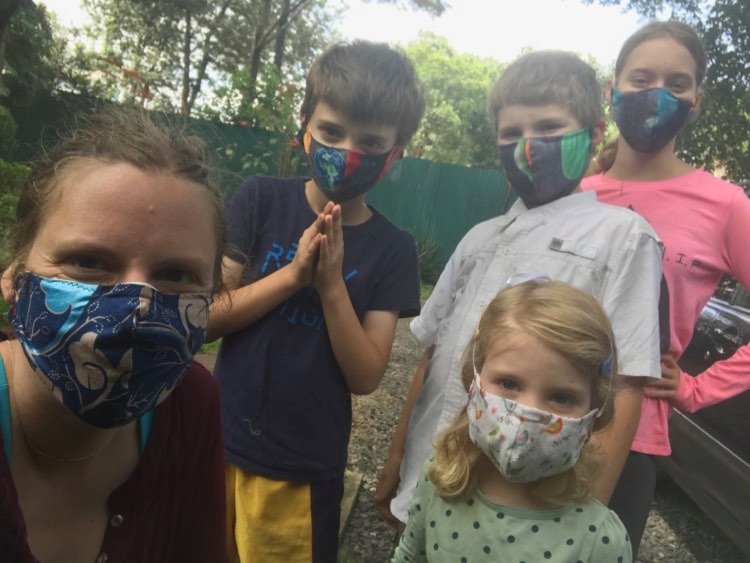 I smiled on Saturday, a week ago, night as I was sewing masks. There was a law rather swiftly introduced here (that continues to be increased) about wearing masks. We appreciate our government's stance here to protect the most vulnerable. Practically though we were looking at major fines for being out in public without these masks and no where to find them (since then you can find home-made masks many places PTL). So I took all my older fabric out and like many of you started sewing.
Thirty masks later I had masks for most of our teammates distributed, and our guards and I confess to enjoying creatively loving on those around me.
Like many of you we are feeling limited, limited in what we can do, limited in how we can love others and limited by what we know. But also like many of you we are thrilled to find new ways to connect with others, new rhythms, and new memories with each other.
It is hard to describe life here in Kenya during Covid, mainly because things keep changing… As we sit outside we hear helicopters in the evening and you can see us scurrying indoors (our understanding is that curfew applies even to our yards here), we have to wear face masks in our car and can only carry 2-3 people in our vehicles so our whole family cannot travel together anywhere. International flights are stopped here as Kenya attempts to seal its borders. We have concerns for the many who cannot work from home here, and are suffering from hunger, and we cannot leave the city limits . One of the hardest things here is poverty that restricts the ability of many to follow WHO guiidlines. We are just a few blocks from Kibera, one of the biggest slums in East Africa. Here there are 250,000 of the world's poorest population crowded into 2.5 sq km. As you can imagine this makes social distancing very difficult for many. Surrounded by need and immediate impact of this virus has, draws us to be continually asking the Lord what He wants us to do with our resources. Like you we find ourselves wondering what is next, what will change and can find ourselves consuming lots of news.
I loved this encouragement a friend gave me, "Abuk, be sure you don't consume (news) more than you create…"
So these days I'm limiting my news consumption and increasing my creativity. R— is learning to paint better, so I dabble with her, D— wants to learn to fight so we look up Kung Fu videos. E—- wants to do Yoga so we practice downward dog…and PJ is writing a book while W—- ups his lego skills. I'm enjoying creating resources to help our team and J– and I often create by gardening and are enjoying watching little plants push up through the soil.
A big and exciting update for us is J– has taken on the role of Country Director for South Sudan effective immediately. More information on that is here. We have spent the last year praying, interviewing and seeking counsel regarding this and are humbled and excited to begin this new role. In addition to this he is playing a key role on the Covid group (CMT) here for our SIM entities (3 of them). Abuk is also serving in this group and is leading a team of five as we look at increasing resilience and people care response to our people in a stressful season. We are also crisis schooling our middle schoolers and homeschooling our boys. Like many of you we are finding the days full, and our hearts full as we process.
BUT friends what a perfect time for Easter to arrive. He has risen (amen?) and this reflection has been such a breathe of joy. Because of this we have such hope and because of Jesus we see such redemption even amidst this global situation. We look forward to sharing in coming months what God has been doing in these weeks in our hearts, in our team and why we are thrilled to be here in East Africa but for now can I say THANK YOU. Things are hard, there is a lot of need, finances are changing for all and your sacrifice of prayer, finances and support to our family is huge. There isn't a day that goes by that we don't thank God for you .
In this season where God is redeeming and calling people GLOBALLY we are honored to represent Him here in Nrb and South Sudan alongside you. Thank you.
Please let us know how we can be praying for you in this season as well.
With lots of Love,
J— and Abuk Cross