It took us a few weeks but here is a tour of our lovely home in Melut. We are so grateful to GTC for the opportunity to study langauge here in Melut by renting us this home! (For those of you who cannot watch the video photos are down below). For those curious minds the bathroom is a pit latrine and the shower right now is a bucket of water on the back porch sorry they didn't make the tour but you can use your imaginations…
Melut house tour from J Cross on Vimeo.
The "front door"
As you enter the front door you first see this our sink and dishwasher…
If you turn to your right you will see this, our stove, water purification system, fridge, pots and pans. Just out of view to the left of the water filter is the door to the kids room.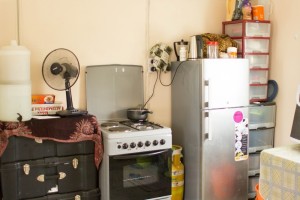 If you turn around and face the front door you will see this. The kids room to your right, the front door on the left and our attempt to keep our drinking water from getting too hot.
Still facing the front door to your left you will see the kids table, our kitchen towels and the entrance to J– and Abuk's bedroom with our prayer "wall" taped to the door.
Here is a better look at the prayer door and entrance to the master bedroom.
Here is the master bed. It is two twins pushed together.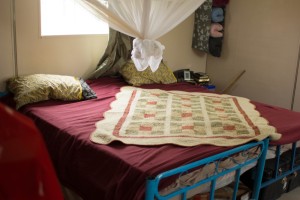 If you turn to exit you will see our school books to the right of the door leading back to the kitchen area
Keep walking straight through the kitchen and you get to the kids room.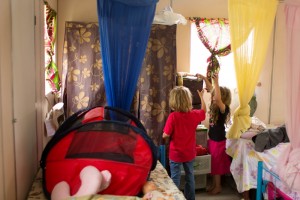 Every bed but Daniel's is lined up against one wall.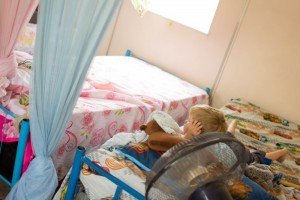 And the best part? Watching the sunset over the Nile and knowing we are where God wants us to be for this time.