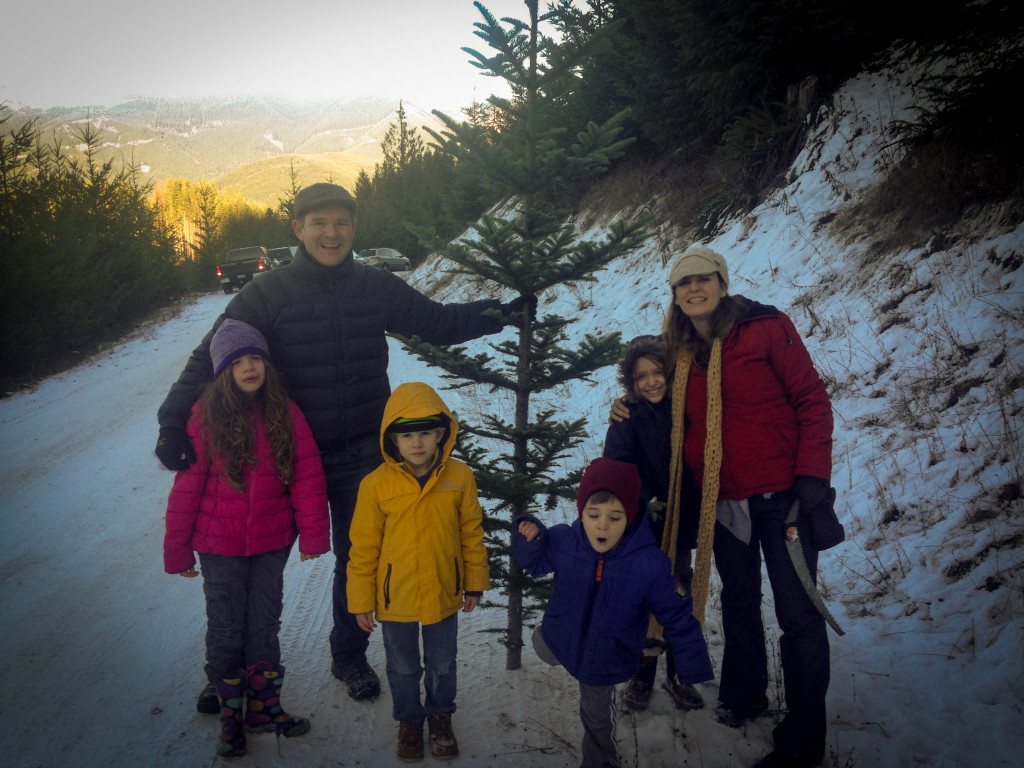 Advent is my favorite time of year. After God graciously allowed us to let go of almost all our Christmas decorations through a cross continental move in 2012 and wartime evacuation in 2013 we found our selves spending a day making decorations to remind us of God's gift in North Africa and we loved it! So this year we chose to do the same, cut out Christmas snowflakes for the tree, popcorn and cranberry chains for our tree and so much laughter.
We went up to the mountains to get our tree. Our passport country this year offers free national forest passes to fourth graders and since PJ is in fourth tree this was a "free" tree and what we thought would be a wonderful family outing in the snow. Getting out of the car was fun…and then we started climbing up a steep hill to find the tree. We had each child at one point crying or upset, it was too high, too cold, too slippery, or too scares. They all took turns voicing their frustration (and then excitement) at the adventure. I am such an idealist I found myself wishing we could all be happy at once….but then it struck me part of the memories were in the imperfection of it all. The parts that weren't so fun made the parts that were that much better. At the end of the day we had a handmade tree in our living room adorned with lights and beautiful popcorn and edible ornaments. We had four children gazing at in in awe and a little girl with band-aids (from stringing those popcorn together with a needle) sigh and saying, today was great. And it was. I love that advent started with a day of imperfect perfection, that our little tree is not perfect (as our family isn't) but is a beautiful reminder of the redemption story. That because of Christmas we can have hope that even the imperfect moments can be redeemed by God for His glory. So I am leaving you with a slew of pictures (most taken on my phone) that tell the story of our imperfect start to Advent. May your time or reflecting and preparing your hearts for remembering the gift we have been given through Jesus be filled with joyful, tearful moments that remind you of your need for Him.
We seek to empower our children, our teammates and our Sudanese friends to love and know more of who God is through acts of loving service and biblical teaching.